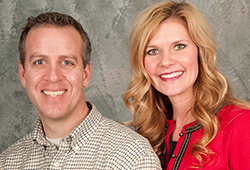 Speak with Danielle Miller-Schuster '97, M.S. '98, about Illinois State University, and you can't help feel her enthusiasm. The University was one of Danielle's top choices when she was deciding on a university, and an offer to join the danceline clinched her decision. While dance may have been the beginning of her involvement as a student, it wasn't the end. The politics and government major worked for four years in the Office of Student Life, served as a Student Government Association legislator and senator, was a member of Delta Delta Delta, and even held a prestigious position as president of the Panhellenic Council.
"When students join our community at Illinois State there is so much opportunity for them to get involved academically, socially, and civically," Danielle said. "I don't think students realize how much exposure they'll have to that until they get here."
The exposure she received as a student helped Danielle find her passion. Involvement on campus showed her how much she could enjoy a career in higher education. As graduation approached she decided to pursue her master's degree in college student personnel administration in the College of Education.
Today Danielle serves as assistant to the vice president for Student Affairs and plays a major role in strategic planning and development. It is a role that brings her full circle from an eager student taking advantage of all Illinois State has to offer to an alum ensuring that the next generation of students enjoys the same student experience that she did.
"I am here because I have a lot of pride in Illinois State University," Danielle said. "But I am also excited about its future. Being able to be a part of it in any way is a means for me to pay back for the opportunities I received as an undergraduate and graduate student."
To ensure that future generations will be able to take part in the Illinois State experience, Danielle and her husband, Andy Schuster '92, M.S. '96, established planned gifts. In recognition of the impact made by Student Affairs, Danielle chose to designate a bequest to support priorities of the division at the time it is made.
"When you develop your will, it is a time of reflection," Danielle said. "For my husband and me it was our opportunity to think about who and what has affected us as individuals and as a couple. Illinois State University is among the very top. It was an easy answer for us, and we knew we wanted to give back."
Through her work and gifts of time and treasure, Danielle continues to be a major part of the University experience and continues to take courses to complete a Ph.D. Even when she finishes the program, she plans to take more courses and use that knowledge to enhance Illinois State.
"I love having the opportunity to be a part of the excitement, energy, and the future of Illinois State," she said. "We impact the future of the communities in which we live through our gifts, and to me that is powerful."